Most (though far from all) engagements start with a ring on the finger of one party to the nuptials. Ours was no different. I thought I knew what I wanted. I wanted something modern and organic with few or no diamonds, preferably diamonds from the Argyle mine in WA.
Turns out modern and organic looked like rubbish on my finger, and something a little princessy was the better-looking option. But bigger (as in, larger than pave size) diamonds felt wrong on my hand. Should have seen the face of one jewellery salesperson when I asked if they had anything smaller than 1/3 of a carat. I decided I wanted a weeny little diamond with sapphires solid all around. Except it turns out that to do that, you have to custom cut the sapphires into little wedge-shapes so they sit flush against each other properly. Which was a teeny bit pricier than we expected. So I reversed the idea. Sapphire in the middle, diamonds round the outside.
I then went on a three-month hunt for a sapphire. A
colour-change sapphire
, to be fancy about it. Ended up buying one online from the US and taking it to the jeweller to be set. It was larger than I intended, but I figured after three months I wasn't going to turn down a stone because it was too big. So I ditched the idea of diamonds round the outside. And, that, ladies and gentlemen, is how I ended up with a sapphire solitaire.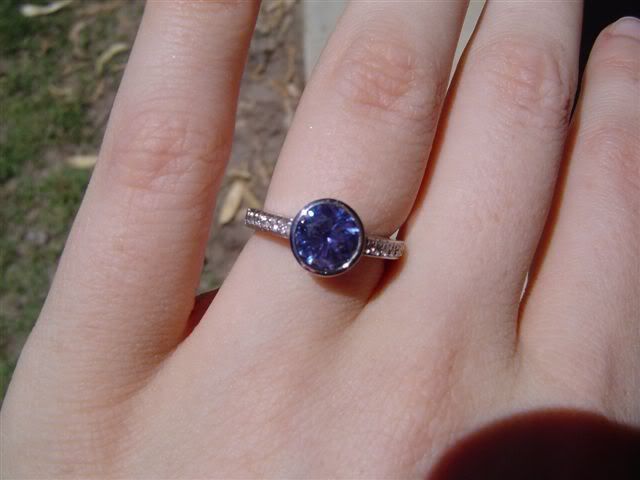 And for the record, I love it. For a review of the jeweller we used, and the saga of BCB's engagement ring (yes, he got one too), stay tuned.